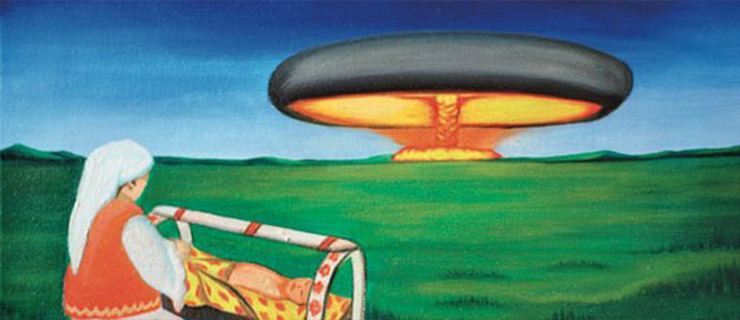 August 29 is the International Day Against Nuclear Tests. It is also the 25th anniversary of the closure of the Semipalatinsk Nuclear Test Site in Kazakhstan. The ATOM Project has initiated a global moment of silence on that day to honor all victims of nuclear weapons testing. Kazakhstan suffered more than 450 Soviet nuclear weapons tests at the Semipalatinsk site beginning August 29, 1949 and ending on that date in 1991 when Kazakhstan's first and current President Nursultan Nazarbayev, responding to the a civil society campaign, shut down the site.
There are no more nuclear tests in Kazakhstan, but the impact on human health will be felt for generations to come.  More than 1.5 million Kazakh citizens have already been seriously affected,  suffering early death, lifelong debilitating illness and horrific birth defects.
In 2012, Kazakhstan President Nazarbayev launched The ATOM Project, a global initiative led by victims of nuclear tests, to help bring into force the Comprehensive Nuclear Test Ban Treaty (CTBT) and show world leaders that the public worldwide is united in its desire to eliminate nuclear weapons.
"We are calling for people around the world to observe 11:05 a.m. their local time as a moment of silence," says ATOM Project Honorary Ambassador Karipbek Kuyukov. "That time was chosen because the clock hands show a V, which stands for victory.  This moment is meant to signify a victory of common sense over fear and a victory for global efforts towards a nuclear-weapons-free world."
Kuyukov himself is an example of victory over nuclear tests. Born with no arms, and with other health complications from the effects of radiation on his parents, Kuyukov has become an accomplished artist who paints with his mouth and feet. One of his paintings depicting a nuclear test in Kazakhstan was presented to President Obama at the Nuclear Security Summit earlier this year.
Take action on August 29
Please inform UNFOLD ZERO (info@unfoldzero.org) if you will be observing the moments silence on August 29, or organising any other event to commemorate the day.
The ATOM Project also invites you to sign their international petition calling for the global elimination of nuclear weapons. More than 260,000 people from over 100 countries have signed the petition. And The ATOM Projects hopes to reach 300,000 signatures by this year's August 29 remembrance.
International Conference in Astana
In Kazakhstan, August 29 will be commemorated with an international conference in Astana, co-hosted by Kazakhstan Foreign Minister Erlan Idrissov, Senate President Kasym-Zhomart Tokayev and Parliamentarians for Nuclear Non-Proliferation and Disarmament.
The conference will be addressed by Kazakhstan President Nazarbayev, and will gather leading parliamentarians, prominent political leaders, diplomats and disarmament experts, as well as religious leaders and civil society representatives from around the world to discuss further steps towards global nuclear nonproliferation and disarmament.
The conference comes just after the UN Open Ended Working Group concludes its sessions on Taking Forward Multilateral Nuclear Disarmament Negotiations, and just before governments meet in New York for the UN General Assembly where they will most likely consider a proposal to initiate negotiations in 2017 on a legal instrument to prohibit nuclear weapons.
Save
Save